ABOUT US
---
History :

The PATNA Meteorological Observatory was amongst the earliest observatory established by the then British Core of Engineering in 1867.Upon formal establishment of India Meteorological Department in 1875 as a government department, the responsibility of observation and management of all meteorological office including Patna was transferred to IMD. Meteorological Centre, Patna is functional from its present location at Civil Aerodrome Patna since 1949. In addition, the Gaya Meteorological Observatory was established in 1869, the Purnia Meteorological Observatory in 1874 and the Bhagalpur Meteorological Observatory in 1950. The first Multi-Purpose Meteorological Radar was installed at Patna. Subsequently it was replaced with an advance Doppler Weather Radar in 2011. In order to provide services for flood monitoring and forecast purposes, a specialized Flood Meteorological office was established. which apart from serving the state of Bihar also caters the requirement of neighbouring state of Jharkhand, West Bengal, Utter Pradesh and Madhya Pradesh. World Meteorological Organization, Geneva in September 2020 has conferred to the Meteorological Observatory Patna the status of Centennial Observing Station (COS) in recognition to its long period meteorological observation and record exceeding 100 years.
Services :

The Meteorological Centre Patna and its sub-offices at Gaya, Purnia, Bhagalpur and Valmiki nagar provides the public weather services for the state of Bihar. In addition, it also caters for the special requirement of Central and state Disaster Management Authorities, Flood monitoring and management agencies, Public Health agencies, Agriculture and Power sector. The service to aviation sector is provided through the dedicated Aerodrome Meteorological offices located at respective airports. For farming community and agriculture sector, the agrometeorological service is provided through Gramin Krishi Mausam Sewa.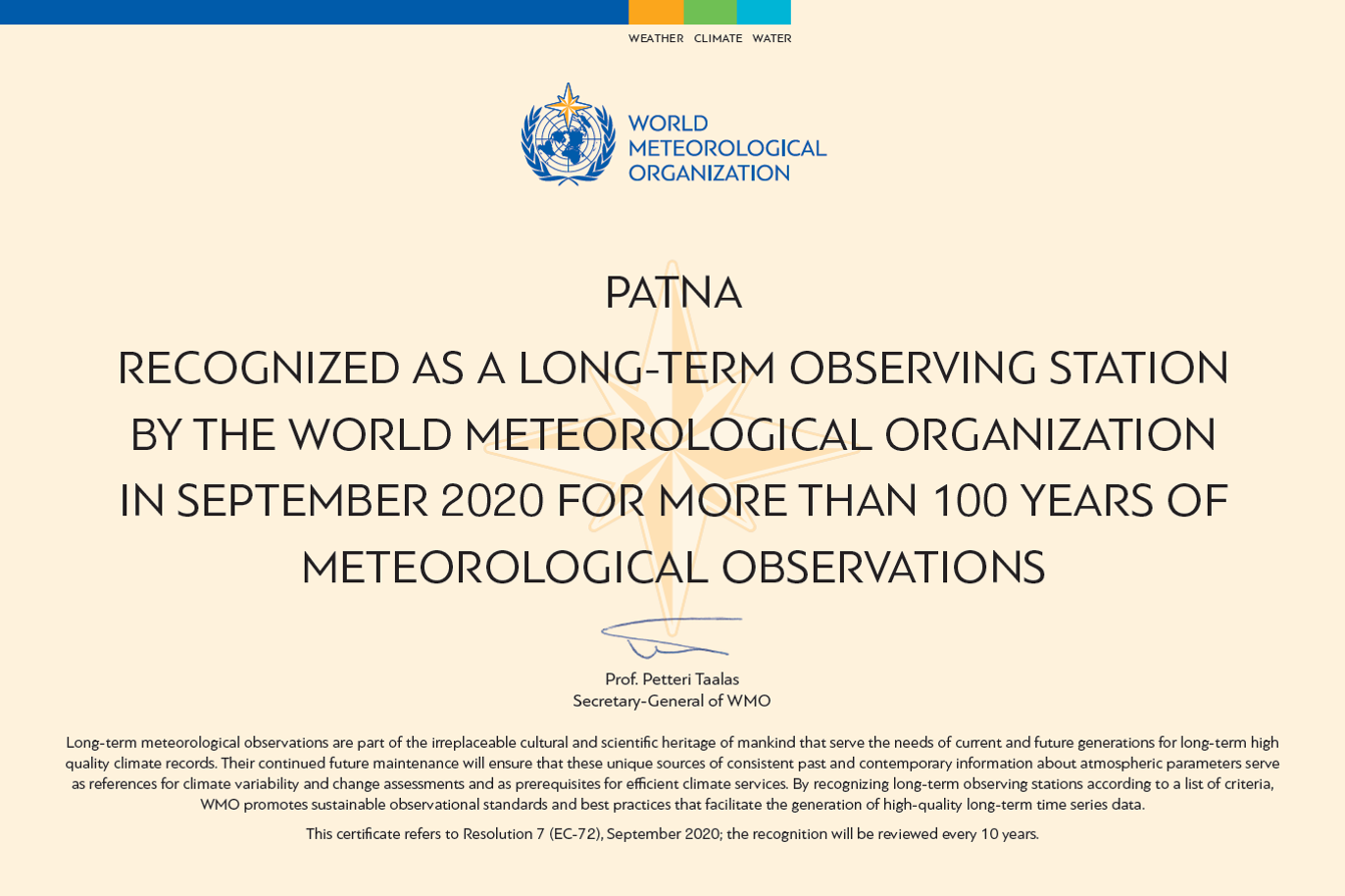 Vision :

The vision of India Meteorological Department is to provide efficient weather and climate services for safety of life and property and to contribute towards the national development.
Mission :


To make meteorological observations for current weather information and to issue timely weather forecast / meteorological information for optimum operation of weather sensitive sectors like agriculture, irrigation ,shipping, aviation Offshore oil explorations tourism,surface transport ,power generation and distribution etc.
To warn against severe weather phenomena like tropical cyclones, thunderstorms,dust storms ,wind squall,heavy rains,snow ,cold and heat waves etc ., which causes destruction of life, property ,agriculture etc.
To issue quantitative precipitation forecast for flood management to Central Water Commission and other Agencies.
To provide climatological information for planning agriculture water resource management ,industries , Oil exploration and other nation building activities,. To conduct and promote research in Meteorology and allied disciplines
To conduct and promote research in Meteorology and allied disciplines.