Activities
---
Meteorological Centre, Thiruvananthapuram caters to the meteorological requirements of Kerala state and Lakshadweep Islands by supervising and coordinating the weather services in the state. Weather forecast (both aviation and non-aviation) for optimum operation of weather sensitive activities like agriculture, irrigation, aviation etc. and warnings against severe weather phenomena (over the state and nearby sea area) like heavy rains, thunderstorm, strong winds etc., which cause destruction to life and property are rendered by this centre under the technical advice of Regional Specialized Meteorological Centre (Cyclone Warning Division) at New Delhi. Necessary Meteorological services for air navigation, towards the safety of aircraft operation in the state, is provided by Airport Meteorological Office - the Aviation section of this office.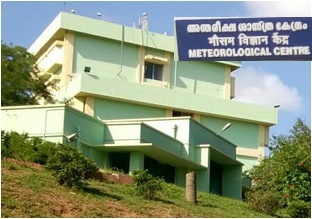 The Challenging task of Weather forecasting is done effectively by taking meteorological observations (both at surface and in upper air) through about 15 observatories and about 68 raingauge stations all over the state and Lakshadweep Islands. 10 Surface observatories are maintained by IMD and the Part-time observatories and raingauge stations are located in the premises of State Government Offices, Railways and other organisations. The raingauge stations are maintained under District-wise Rainfall Monitoring Scheme (DRMS). Accuracy of meteorological observations is ensured by periodical inspection of observatories and raingauge stations by this Centre. Calibration of all instruments at observatories are checked at least once in two years. 15 automatic weather stations in Kerala and one in Lakshadweep Islands. 30 automatic raingauge stations in Kerala. The transmission of hourly data to HQ is carried out automatically through INSAT and GPRS are also maintained by this office.
8 synoptic surface observations at 3 hourly interval starting from 00 UTC and 2 upper air observations (00 & 12 hrs UTC) using hydrogen filled balloon bound GPS sonde with meteorological sensors and 2 pilot balloon observations (06 & 18 hrs. UTC) are taken by this office. Continuous watch over weather events is effected through different self recording surface meteorological instruments. The observational data of the above stations is collected and transmitted along with the observations taken at this office immediately at each synoptic hour, to our HQ at New Delhi through Web based Meteorological Data Transmission And Retrieval (AMSS) mode of communication. HQ re-transmits the data pertaining to India and neighbouring countries to individual observatories. Based on these data, plotting of surface and upper air charts are done. Issue of daily weather forecast and severe weather warnings are done on the basis of the analysed weather charts and satellite/Radar imageries.
Agromet Advisory Unit is regularly issuing Agromet Advisory Bulletins twice a week (Tuesday and Friday) for the benefit of the farming community in the state. Weather forecast, warnings and agromet bulletin are broadcast through AIR and Doordarshan.
Continuous monitoring of earthquake is done by state of the art instruments. Continuous monitoring of surface ozone, Black carbon, Integrated Precipitable Water Content, measurement of solar & terrestrial radiation are routine activities of this office.
Climatology section undertake the scrutiny and archival of meteorological data and use such data over a number of years for answering various weather related enquiries from different users, Issue of Weather Report for Insurance Claim purposes, Climate related research and planning purposes.
Heavy rainfall warning
Rainfall amount is expected to exceed 7 cm in 24 Hours, heavy rainfall warnings are issued in color code (Green/Yellow/Orange/Red) in districtwise to SDMA, District Collectors, Police, Railway and so that the disaster management machinery can be kept in readiness.
Fishermen Warning
When wind speed over sea area is expected to exceed 45 kmph, wind warnings are issued and communicated to the Director of Fisheries, all Dy. Directors of Fisheries through email/SMS, advising fishermen not to venture into the affected area. Weather warning for fishermen for Karnataka, Kerala coasts and over Lakshadweep area. This will contain issue time,Validity, direction and speed of the strong winds likely along and off Karnataka, Kerala coasts and over Lakshadweep area.
Nowcast Warning
Issues 3 to 4 times a day during thunder storm. Warning contains information about issue time, Validity (3 Hours), occurrence of Thunderstorm, associated squally wind and heavy rainfall over distrcts of Kerala. Warnings are issued to SDMA, District Collectors.
Cyclone Forecast and Cyclone Warning
The cyclone tracking, forecasting and advance warning are being done precisely after the Meteorological application program of INSAT series of Indian Geo-Stationary Satellites have become operational since October 1983. Monitoring of the cyclone by taking hourly pictures has helped the forecaster to improve his skill in issuing the timely warnings to the public. Satellite pictures received by the IMD HQ at New Delhi are further disseminated to all the forecasting Offices through satellite based Digital Meteorological Data Dissemination Systems. The Government has strengthened the Meteorological Department, by providing Cyclone Surveillance Radars at Kolkata, Paradeep, Gopalpur, Visakhapatnam, Machilipatnam, Sriharikota, Chennai and Karaikal in the east coast and at Thiruvananthapuram, Kochi, Goa, Mumbai and Bhuj in the west coast for further cyclone warning when they are within a close approach of 500 km off coast.
Area Cyclone Warning Centres (ACWC) and the Cyclone Warning Centres (CWC) of IMD are responsible for cyclone forecasting in the Bay of Bengal and Arabian Sea - the Regional Specialized Meteorological Centre (RSMC)/ Cyclone Warning Division (CWD) at New Delhi being the coordinator. Computerised Operational Advisory Forecasts on cyclone movements are being issued by the Numerical Weather Forecast Centre (NWFC) of the Department at the H.Q., New Delhi
CWC issues four stage warnings on Cyclone watch, Cyclone alert & Cyclone warning, in case of a system striking the coast or near the coast and port & fisheries warnings and heavy rainfall warnings for various agencies. After receipt of pre-cyclone watch bulletin issued by HQ, CWC will monitor & issue of warnings as per different stages of Cyclone.
The first stage is the 'pre-cyclone watch' issued by IMD Delhi when a depression forms over the Bay of Bengal irrespective of its distance from the coast and is likely to affect Indian coast in future, to cabinet secretary and other senior officials of government of India including the chief secretaries of concerned maritime states 72 hours in advance of the commencement of bad weather. Issued at least once in a day.
The second stage is the 'cyclone alerts' issued by the respective cyclone warning centre to the chief secretary of the maritime state and the collectors of the concerned coastal districts 48 hours before the commencement of bad weather. Issued every three hours.
The third stage is the 'cyclone warnings' issued by the respective cyclone warning centre to the chief secretary of the maritime state and the collectors of the concerned coastal districts 24 hours before the commencement of bad weather. When the cyclone is located within 500 Km from the coast. Information about time /place of landfall are indicated in the bulletin. Confidence in estimation increases as the cyclone comes closer to the coast.
The fourth stage is the 'post landfall outlook' issued by respective cyclone warning centre 12 hours before landfall for the benefit of relief officials of concerned areas which may get affected by the adverse weather due to cyclone/depression travelling inland. More accurate & specific information about time /place of landfall and associated bad weather to be indicated in the bulletin. In addition, the interior districts likely to be affected due to the cyclone are warned in this bulletin.
Port Warning
Ports are warned 5 to 6 times a day during period of cyclonic storm. Day signals are in the form of cones and cylinders. Night signals are in the form of red and white lamps. Warning contains Port Warning No, Date and Time of Issue, Information on cyclonic storm, location with Lat./Long., distance from coast in km. at time of observation in IST, Estimated Central Pressure in hPa., Forecast of further intensification, Direction of Movement, Expected Landfall Area, Expected Time of Landfall, Advice for hoisting Storm Warning Port Signals and Likely impacts and actions.
Sea Area bulletin
Issued by ACWC Mumbai for deep sea. Normally twice a day (based on 03 and 12 UTC, Thrice a day in case of D/ DD (additional bulletin based on 18 UTC). Six times a day in case of a cyclone. There is also provision of special bulletin. This bulletin contains information about the system, expected weather, wind, state of sea, port warning etc
Fleet forecast
Issue exclusively for Indian Naval ships. They are issued twice daily corresponding to Aurora and balloon sea area bulletins. ACWC Mumbai issues fleet forecast for Arabian sea to the north of latitude 5ºN and East of longitude 60ºE, Gulf of Oman and Persian Gulf. Fleet forecast covers wind speed and direction, visibility and state of sea conditions and validity period for the corresponding sea areas. Outlook for next 12 hours. Day bulletin will issue at 0800 UTC and night bulletin will issue at 1700 UTC and fleet forecasts are broadcast by Naval W/T station Mumbai during weather broadcast period commencing from 0930 UTC and 1830 UTC respectively.
Coastal weather bulletin
Issued by cyclone warning centre for coastal shipping. Normally twice a day (based on 03 UTC at 1400 hrs IST and based on 12 UTC at 2000 hrs. Issued based on sea area bulletin. Thrice a day in case of depression/ deep depression (additional bulletin based on 18 UTC). Six times a day in case of a cyclone. There is also provision of special bulletin. This bulletin contains significant system, expected weather, wind, state of sea, port warning etc.
Modes of communication
Dissemination of warnings through Personal interactions, Phone, Interactive voice response system (IVRS), Mobile Phones, SMS, Email, AIR, FM Radio, Community Radio, Doordarshan, PIB, Print & Electronic Media, mKeralam App, Whatsapp group, Gmail group, Facebook, website, FTP web sharing, Teamviewer File sharing, Google Drive, Police W/T and Fax. So that district authorities can initiate appropriate precautionary measures on receipt of such warnings.
---