Hon'ble Minister | Bio-data
---
Name : Dr. Harsh Vardhan
Date of Birth : 13 December 1954
Present Affiliation : Hon'ble Union Minister for Health
and Family Welfare,Science and Technology
& Ministry of Earth Sciences
Phone : 011-23794648,23794649 | Fax: 011-23794640
Education : M.B.B.S.,M.S.(ENT)
Educated at G.S.V.M. Medical College,
Kanpur,U.P.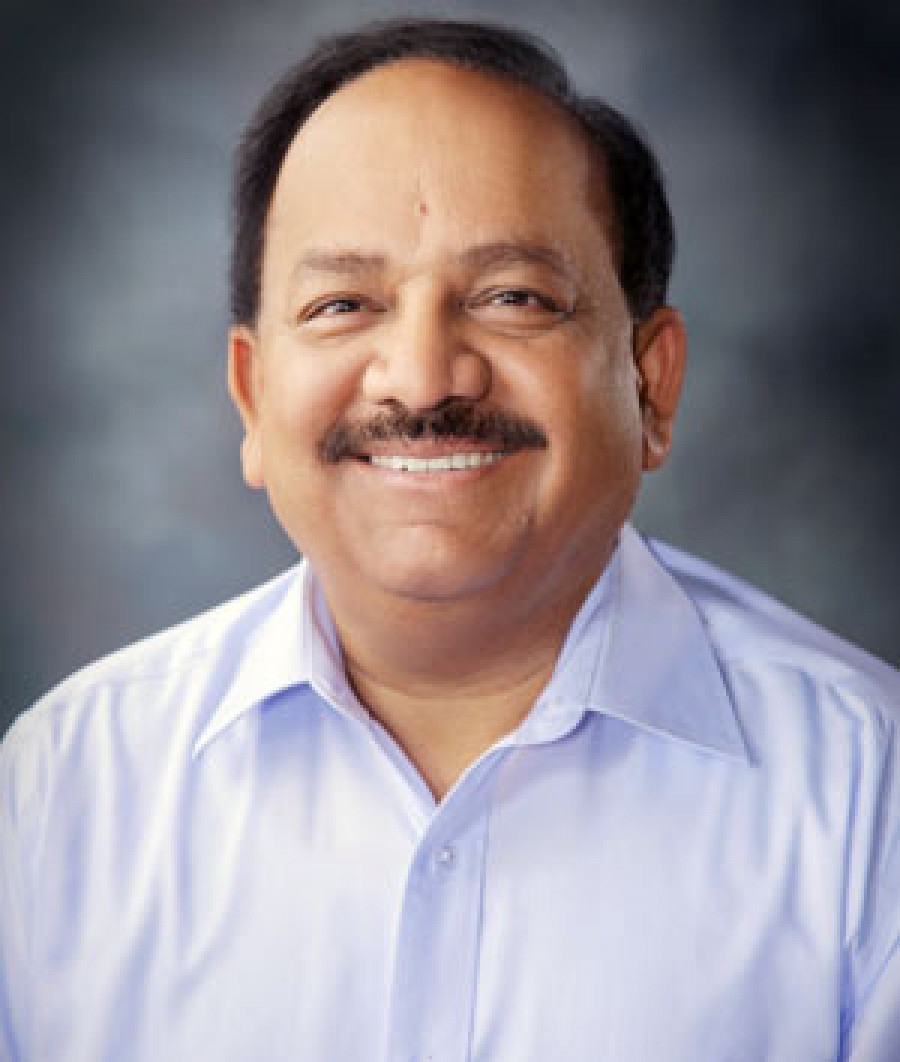 Important Positions held:
Years
Position held
1993-2014
Member,Delhi Legislative Assembly(Five Terms)
1993-1998
Minister of Health,Education,
Law & Justice & Legislative Affairs,
Govt. of NCT of Delhi
May,2014
Elected to 16th Lok Sabha
27 May 2014 - 9 November 2014
Union Cabinet Minister,Health and Family Welfare
9 November 2014 - 25 May 2019
Union Cabinet Minister, Science and Technology; and Earth Sciences
18 May 2017-25 May 2019
Union Cabinet Minister,Environment, Forest and Climate Change
May,2019
Re-elected to 17th Lok Sabha(2nd term)
30 May 2019 - onwards
Union Cabinet Minister,Health and Family Welfare;Science and Technology; and Earth Sciences
Books Published:
A Tale of Two Drops(English)
Kahaani Do Boondo ki(Hindi)
Literary,Artistic&Scientific Accomplishments:
Several articles were published in scientific journals of Otolaryngology and regularly writing articles on subjects of health and national interest in various newspapers(dailies and weekly magazines)
Social and Cultural Activities:
Actively associated with many social and professional organisations (details can be accessed on the Website www.drharshvardhan.com )
Special Interests:
Activities pertaining to the field of health at national and international level particularly polio eradication,tobacco control,essential drug policy,organ donation,etc.
Favourite Pastime and Recreation:
Music,films and social work
Sports and Clubs:
Interested in Cricket, Lawn Tennis and Sports in general in a big way.
Countries Visited:
Australia,Brazil,Bangladesh,Finland,France,Hong Kong(Special Administrative Region of the People's Republic of China),Indonesia,Japan,Malaysia,Mauritius,Myanmar,Nepal,Philippines,Singapore,Spain,Sweden,Switzerland,Thailand,U.K. and U.S.A.
Other information:
Served as Advisor to World Health Organization for many years and was member of many international technical committees.