Meteorological Services for Civil Aviation in India
Web Based Aviation Product Delivery System - MWO Delhi | Web Based Aviation Product Delivery System - MWO Chennai
India Meteorological Department provides a crucial service to the national and international civil aviation sector in fulfilment of the requirements prescribed by the International Civil Aviation Organisation (ICAO) and the Director General of Civil Aviation of India (DGCA).
These services are provided through 18 Aerodrome Meteorological Offices (AMO) and 54 Aeronautical Meteorological Stations (AMS) located at various national and international airports of the country.
Aerodrome Meteorological Offices functioning at Mumbai , Kolkata , Delhi and Chennai airports also serve as Meteorological Watch Offices (MWOs) catering to flights in respective Flight Information Regions (FIR). One ICAO designated Tropical Cyclone Advisory Centre (TCAC) is also functioning at New Delhi. It is this center's responsibility to monitor the development of tropical cyclones in its area of responsibility, using geostationary and polar-orbiting satellite data, radar data and other meteorological information and provide advisory information on tropical cyclones to the Meteorological Watch Offices in India and neighbouring countries.
The technical coordination and overseeing of the functions of the aviation meteorological offices is done by Central Aviation Meteorological Division (CAMD), at DGM New Delhi.
Meteorological Training Institute (MTI), Pune takes care of the training requirements of the Aeronautical Meteorological Personnel. The installation and maintenance of Airport Meteorological Instruments are done by the Surface Meteorological Division at Pune. The telecommunication requirements for aviation are managed by ISSD functioning at New Delhi and by the telecommunication unit of Airport Authority of India.
The guidelines for meteorological service to aviation in India are given in "Manual on Procedures for Meteorological Services for Aviation in India" published by CAMD. It is essentially the Annex 3, incorporating national practices also. The Aviation Weather Code Book, also published by CAMD closely resembles "Manual on Codes- WMO No.306". These two publications are updated and revised from time to time in order to incorporate all the amendments and changes by WMO and ICAO.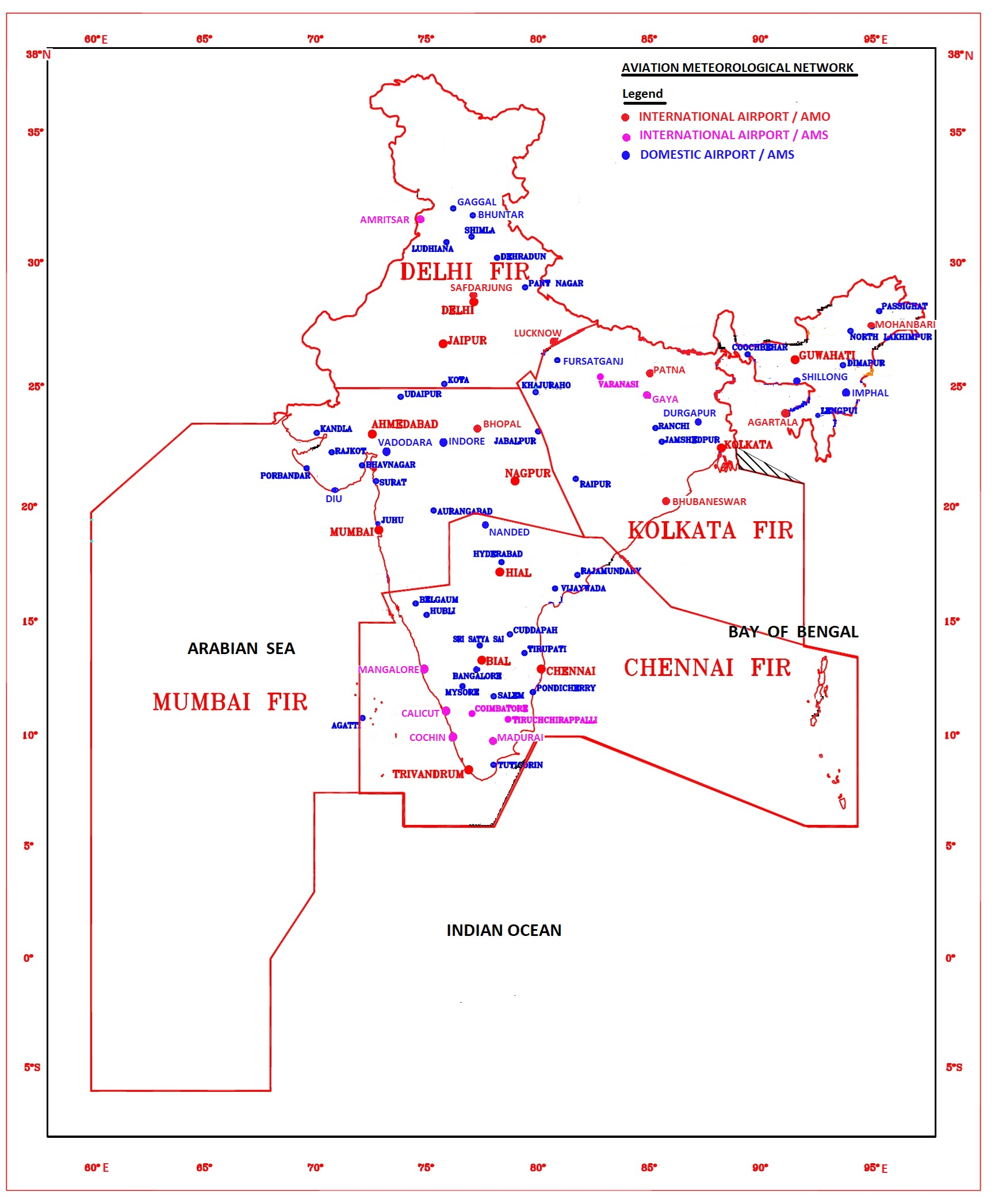 Information Dissemination:
The briefing and documentation to the operators is provided either through manual or automated means. The web based information dissemination system known as On-line Briefing System (OLBS) of IMD is being maintained by the meteorological offices functioning at the international airports at Chennai and New Delhi, through which the registered users can directly download the forecast products as desired. Apart from the primary communication channels of AAI, the department has all advanced communication modes for the dissemination of aviation meteorological information.